This year marks the 30th Anniversary of Project Feeder Watch, a partnership between Cornell Lab of Ornithology and Bird Studies Canada, sponsored by Wild Birds Unlimited. Through the efforts of those citizen scientists who report the number of birds at their feeders, a comprehensive look at continental wintertime populations of feeder birds has been compiled.
There were two noteworthy conclusions that I felt people in this area might be interested to know more about.

The first is the data for Northern Cardinals, which shows their range has expanded since 1989. This has been supported by the number of Feeder Watchers who are reporting Cardinals in Minnesota, Michigan, Maine and southeastern Canada. The citizen Science Director of Cornell's Lab stated that "Cardinals, like people, like a free lunch. The abundance of food provided by people has helped the species to colonize new areas." It was also noted that the addition of shrubbery in landscaping, a somewhat new trend, provides food in the way of fruit, and shelter for nesting habitat as well as cover in winter.
It comes as no surprise to us, here at Wild Birds Unlimited in Grosse Pointe Woods, that the prevalence of Cooper's Hawks is on the rise. We hear about this trend on a daily basis and have witnessed the number of verified nests for this raptor species.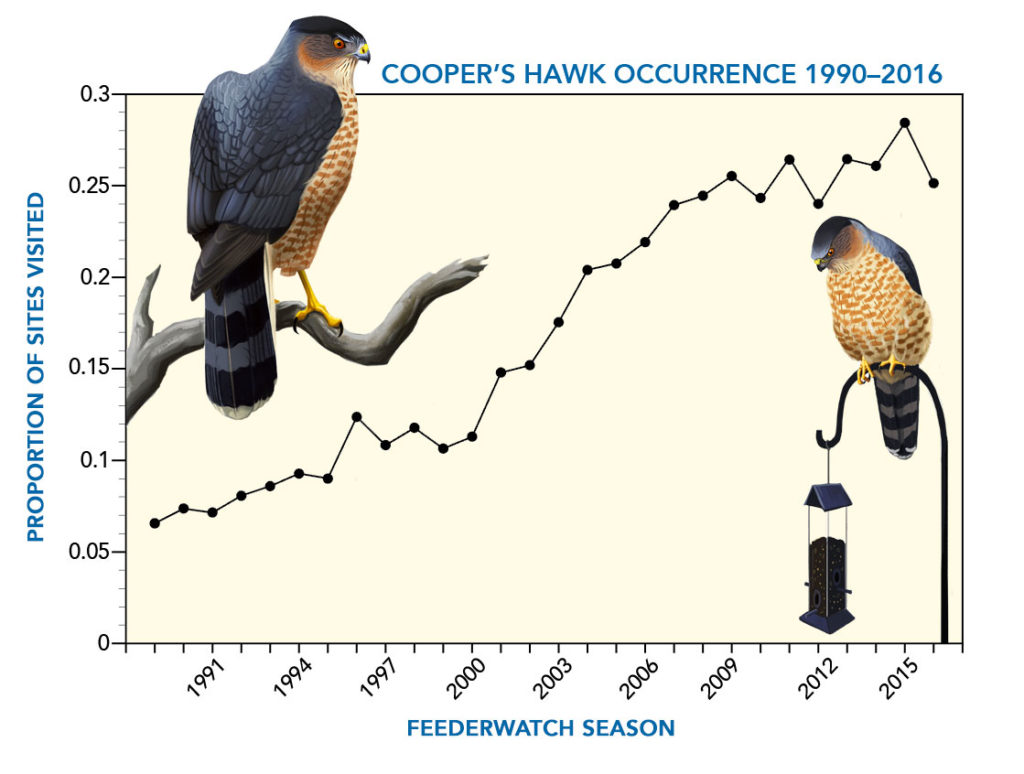 As stated in the report, the Feeder Watch data shows a clear and consistent increase in the proportions of backyards hosting Cooper's Hawks in the winter. The current hypothesis is that the wintering strategy has changed from migrating to Mexico to overwintering where there are large groups of prey species at bird feeders. The data does not suggest that prey species numbers are stable.
Through Project Feeder Watch, your data can be added to the growing base of important information. The fee to participate is $18.00 ($15.00 for Cornell members), and includes your count kit tally sheet and calendar, access to online data, and a Common Feeder Birds poster. Counting concludes on April 7, 2017. Visit feederwatch.org to learn more.
You may also consider signing up with eBird, a free online program which helps record bird populations on a daily basis, year-round. Click here to learn more about Cornell & Audubon's Great Backyard Bird Count, a bird-based citizen science project which uses eBird data inputs.
Have you joined our email list? Click here to sign up, it's free and gives you access to sales, coupons, nature news, events, and more!