There is perhaps no other bird that elicits such strong emotions in us as a Bald Eagle.  Truly majestic in appearance, we are so fortunate that their numbers have increased from 30 nesting pairs in Michigan in the 1950's to 900 pairs currently.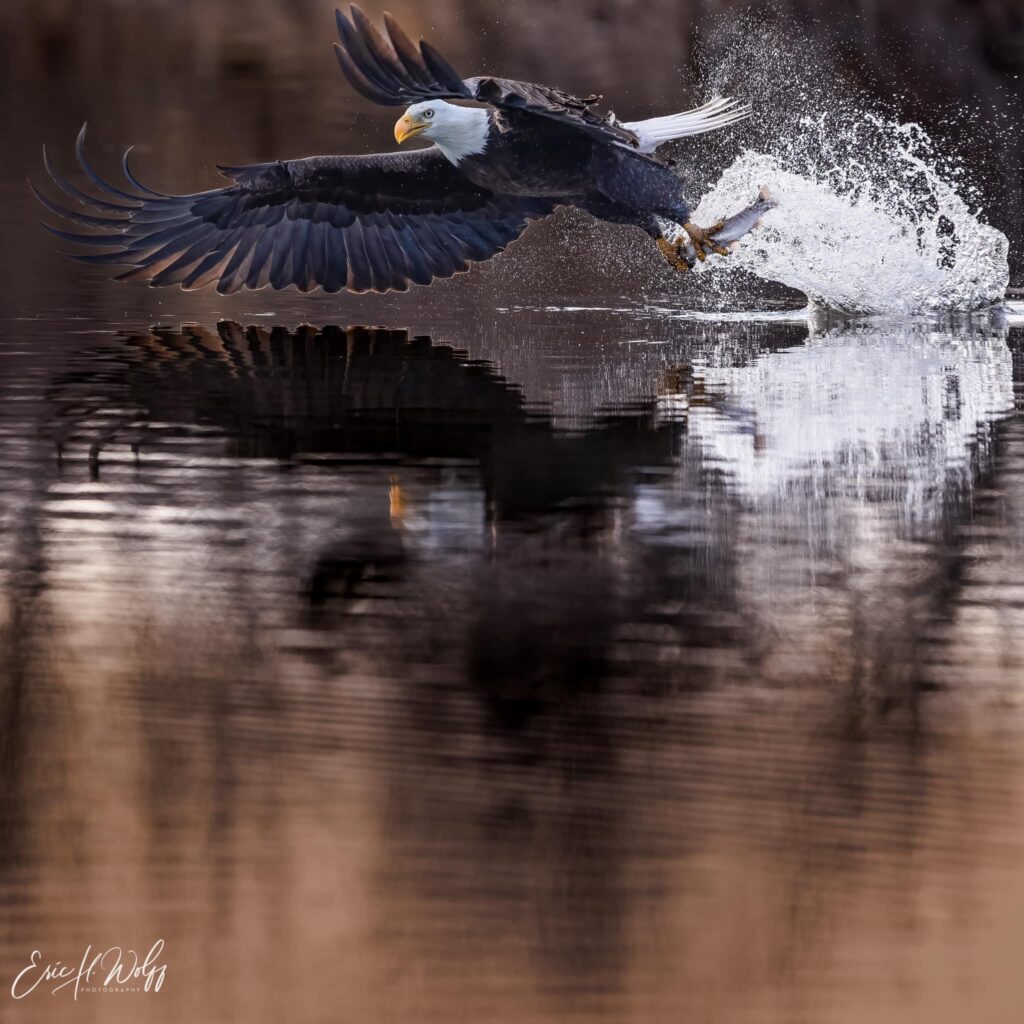 Thanks to Eric H. Wolff for this photo of Bald Eagle with fish
The use of DDT, a man-made chemical that seeped into streams and rivers, affected the fish that Eagles ate, causing their eggshells to become so fragile they would break before hatching. After DDT was banned, we have seen the dramatic recovery of this species. Bald Eagle pairs are currently nesting at Belle Isle, the Country Club of Detroit, Stoney Creek Metro Park and on Sugarbush Road in New Baltimore.
Bald Eagles have spectacular courtship displays with the pair flying high into the sky, locking talons, and cartwheeling downward together, breaking off at the last instant to avoid crashing to earth.  They will also perch closely together and call as part of pair bonding behavior.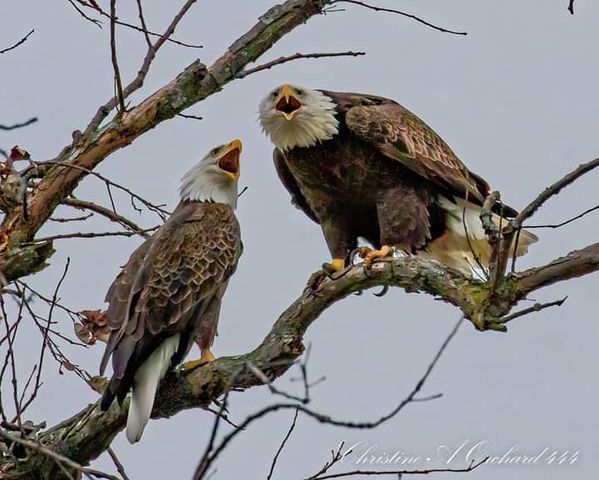 Thanks to Christine A. Orchard for this photo of Bald Eagles "Mate Calling" on Belle Isle
A Bald Eagle nest is an amazing creation with large sticks being used to create the sturdy platform and edges, an average nest being four to five feet in diameter and three to four feet tall, weighing a ton.  The inside is lined with grasses, moss or seaweed so that the eggs are insulated and have a soft surface to rest upon.  Bald Eagles re-use their nests year after year, both the male and female adding materials.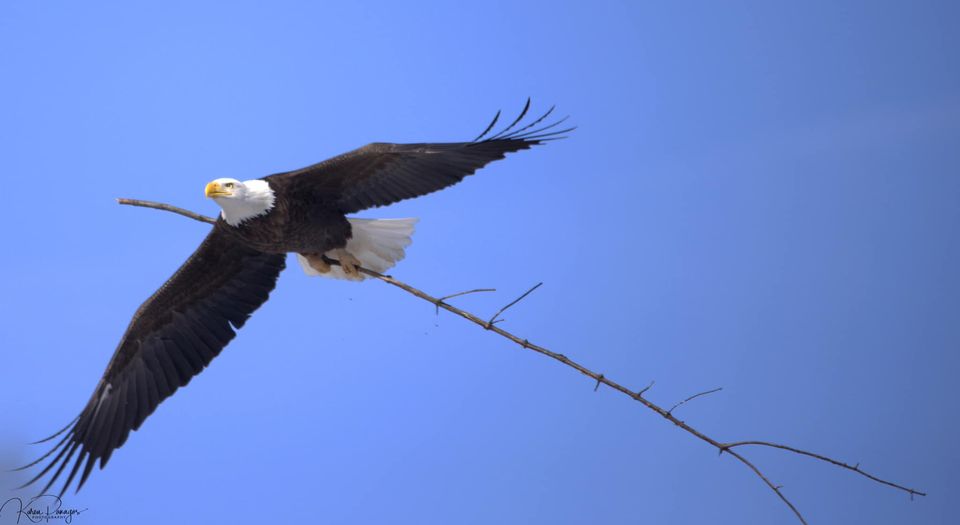 Thanks to Karen Panagos for this photo of Bald Eagle with nesting material on Belle Isle
Eggs are laid early in the year with most of our resident Eagles on eggs in February and March.  Eggs are incubated for 35 days by both the male and female, who form a brood patch on their belly. This bare spot allows them to press their hot skin directly against the eggs to keep them at 105 degrees. The young may remain in the nest from 56 to 98 days.
Eagles feed primarily on fish and besides catching their own, will scavenge on dead fish as well as steal fish from other raptors.  Eagles also eat roadkill and are proficient duck hunters. Although their beak appears to be a formidable weapon, it is used only for ripping apart prey.  All of the killing of prey is done with the talons of the Eagle when they pierce their prey.  The talons are almost 2 inches long on female eagles, and about an inch and a quarter on males.  Eagles will travel for miles away from their nest in pursuit of food.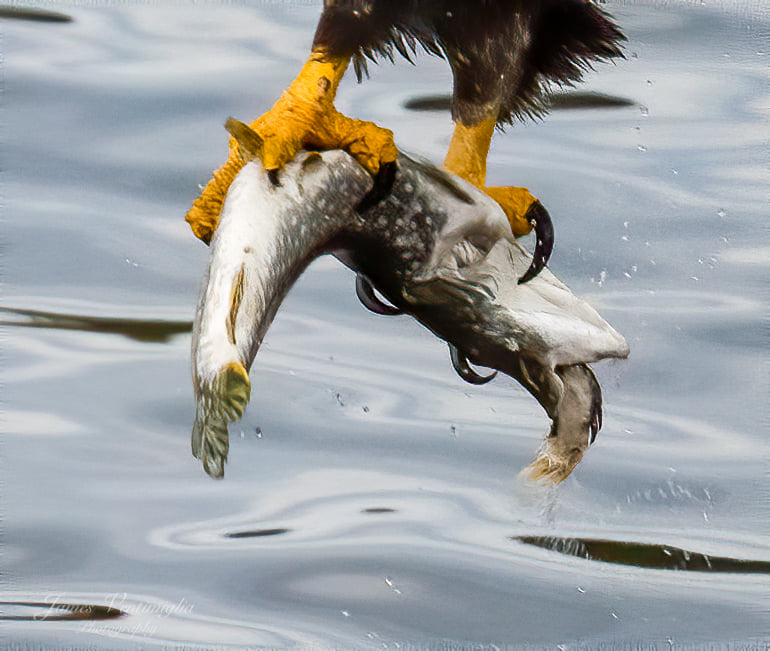 Thanks to James Ventimiglia for this photo of Bald Eagle with fish in talons
Adult Bald Eagles have a completely white head and tail, with juveniles going through a five-year phase of different dark plumages until they reach mature plumage.  One of the other field marks of the Bald Eagle is that they hold their wings like a plank in flight as opposed to having a downward curve or a dihedral, their head and tail projecting in equal lengths from their body.
Thanks to Joan Kowalski for this photo of Bald Eagles mating on Belle Isle
Eagles have five times as many light sensing cells in their eyes than we humans which allows them to see in more detail.  They also have four fovea which is a small area in the retina packed with light-sensing cells.  With two fovea in each eye, all pointing in different directions, Eagles have almost 360 degrees of peripheral vision.
May you have the fortune of an "eagle eye" view of our National Symbol.
Thanks to Ernie Sereniak for this unique photo of a Bald Eagle on ice